I can't get over myself and I still have a lot of issues with my hair. It's driving me hazel nuts! I'm good with self-criticism so please spare me some or just bring it on. Let them come. I'm THISCLOSE to shaving my hair bald and every single day feels like a bad hair day! I had two trips to the salon in two weeks and I'm still not satisfied. The problem with not having the same hair stylists is they never get it right when they trim my bangs. Something is always wrong right after leaving the salon. My bangs is not trimmed evenly or maybe I'm just too much of a perfectionist with ## percent room for improvement. It's just too bad my favorite hair stylist left the country for greener pastures. The grass is greener on the other side but I don't want to talk about the grass even if my hair's texture is similar to it. This isn't displacement either. It's my hair and I'm making such a big fuss about it. I don't even want hair rebond or relax cause I need to tie my hair when I run or play football. Besides, it's too much of a maintenance and I can't promise consistency to myself when it comes to hair treatments. Something's gotta give but I'm not willing to take that route. I'm left looking like Darth Vader. Swear!
I was so relieved when Laura, brainchild behind
the blog of worldly delights
shared some of her no-nonsense secrets when it comes to hair care. I'm giving my hair a month to recover from it lackluster and if it still doesn't work. Well, hello scissors! Otherwise, I won't hesitate to buy myself some gas mask and wear it. The all black outfit is not a protest and I'm not mourning over my hair. I just feel more of myself when I'm wearing black and my worn out oxfords. I live an active lifestyle and I still get to dress up thanks to work but it's so difficult to take outfit shots. It's when you have the camera, location and good lighting but you got no one to take your photos with. If only I am with my boyfriend 24/7 where I can just charm my way for him to shoot me. I don't even have to ask him sometimes. He knows it already. And he knows my every outline.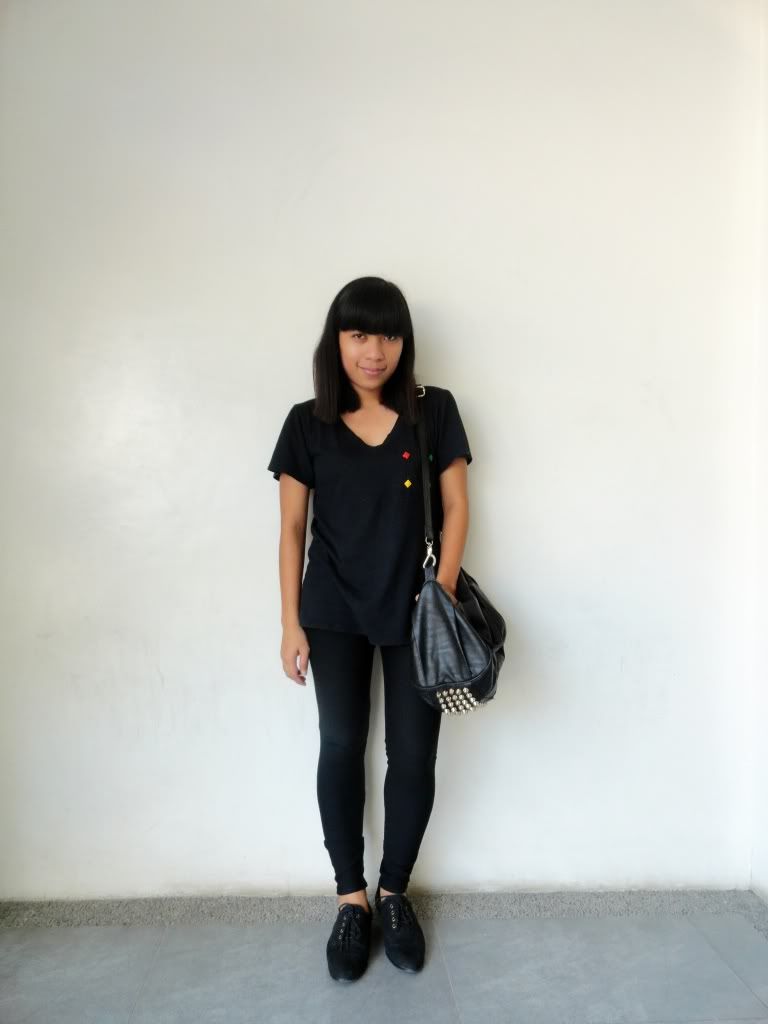 shirt: topshop jeggings: bench oxfords: forever 21 bag: parisian