There are a lot of times when trending topics in twitter kill more people even before they know it themselves. These kinds of phenomenon happens to the famous and even to the obscure. That's alternate reality for some and one of the perks of being online. Anyone can be dead anytime. True or not - some find it amusing while some just don't really care. I'm curious by nature but that doesn't mean I genuinely care if person x was killed online. I just save it all for the people who really matters.
As this blog entry unfolds and to skip all those non-sense in the first paragraph. I did wish the things that happened earlier were just some trending topic and did not happen in REAL life. It was no hoax. It did happen. It all happened so fast. I've experienced the strongest earthquake in my entire lifetime. It was recorded at 6.9 and I really thought I was going to die
. I panicked and nearly cried. I was alone in my desk and my office mates were almost twenty meters away. I didn't want to die at work. And I was not wearing heels. Sure, it's difficult to run while on heels but I just prefer to wear them when things like these happen. Not that I wish it would happen everyday. I just prefer wearing my sky-high heels like how Kate Beckinsale does in Underworld.
The quake lasted for almost a minute. Believe me, it felt like it was my last minute on earth. Cliche, yes but that's how everything felt. All I could think of was to run for safety and go outside the building or just hide under the desk. Just like what they do in those disaster movies. No one at work got harmed but everyone's emotionally shocked and it's still business as usual. After feeling the earth shaking, I hurriedly checked on how my loved ones are doing. Thankfully they're all safe.
While on my way home, thinking that the disaster is finally over. People on the streets were on panic. Heavy traffic - cars and people alike. Everyone went running and shouting that there's a tsunami cause water level in the downtown area went above sea level and we need to go some place higher. How is it even possible. Like, seriously. But my nerves got the best of me and I went on full panic mode. While exchanging messages, my boyfriend Bal told me panic will kill me and not the quake or tsunami. Right. As of this writing, we're still feeling a bit of aftershock with the ground shaking. I could not blame myself. Safety always comes first and there's a lot of lessons learned today. Don't believe everything you hear. Seeing doesn't always mean believing. Don't panic. And the rest is still unwritten. Yes, Natasha Bedingfield, play some good music, please.
Someday we'll all look back and laugh about this, or at least not cry so fucking hard.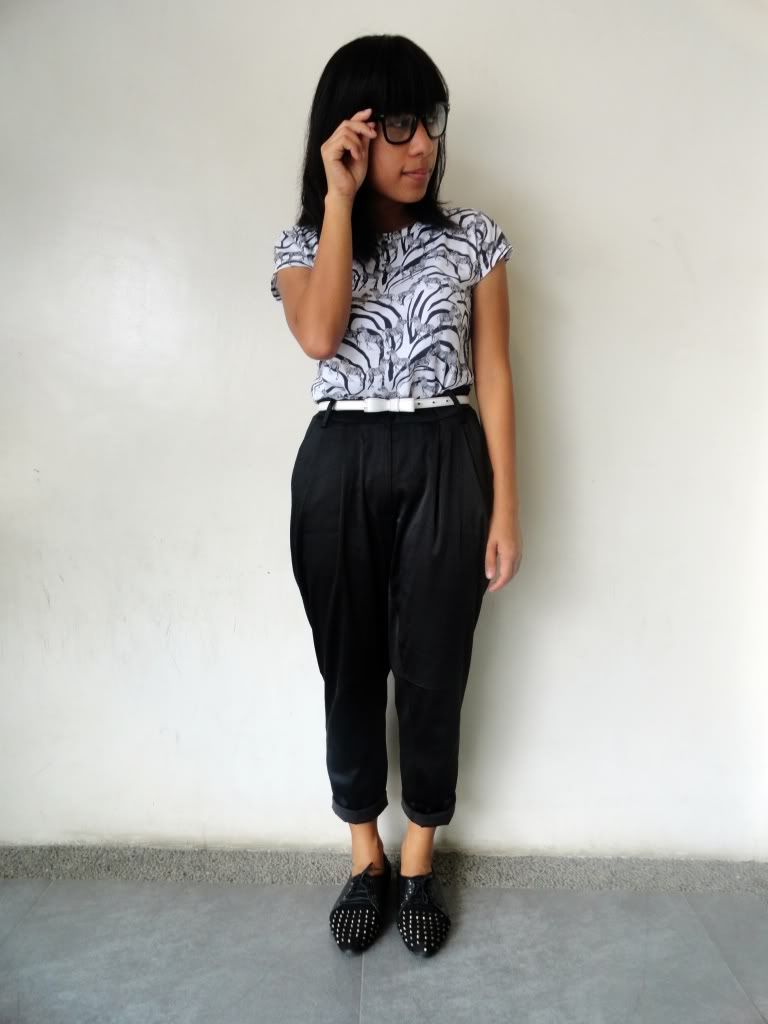 studded oxfords: WADE | silk harem pants and top: PHILOSOPHY | belt: KASHIECA | bag: PARISIAN
photos by Deejay Timbreza and before the earthquake